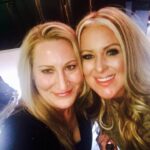 This life we live is so complex. One day it's a celebration of loved ones. The next, you're getting a late night call that one of your best friend's has been taken from this world in the most tragic of ways. Your life is, unexpectedly and completely, upended in that moment. In an instant, the weight of life seems unbearable. It's just so damn heavy!
Such has been the case for us. My wife, Kerrie, lost her best friend, Kimberly Knapp, this Monday evening. The circumstances surrounding her death are not what I want to discuss here. All those things are in the hands of law enforcement for them to work through. And I would be remiss if I did not add a note about the service these first responders and law enforcement officials have provided our dear friend's family. 
When something like this happens, they're working 'round the clock to do a thorough investigation. This means tremendous personal sacrifice and a huge level of work that largely goes on behind the scenes. We are so grateful for the many individuals around our nation who serve in this capacity – in this case, specifically, the Saginaw, TX police department. Thank you all.
I just want to pay tribute to a dear friend who has been by our side for two decades, and my wife's for much longer.
First Impressions
I first met Kim a couple months after Kerrie and I began dating 20 years ago. At the time, I was working as a mover, traveling on an 18 wheeler across the country. And it was clear, even in those early days, that Kerrie was the woman I would spend the rest of my life with. Each night, as I lay in the bunk of the cab of the truck, I'd pick up my Nokia phone and call her. I couldn't wait to hear how her day was.
On one particular evening it was clear she wasn't feeling well. She wasn't her usual, spirited, self and I was really worried about her. The next day I received a call from her best friend, Kim. She told me that she'd called off work for the day and she was heading over to Kerrie's apartment to take her to the doctor. She was so worried about her friend, as Kerrie rarely got sick. At that time we were all just poor kids trying to make it. And taking off work meant losing a day's wages…and that was HUGE.
As I got off the phone with Kim I remember thinking that I could count on one hand the people who would drop everything in an instant to be there for me. And I reflected on the character of those people. It may not seem like a big deal to most. But to me, it resonated deeply. I knew that Kim was that friend who would go above and beyond for her friends and loved ones. And, over time, that circle would expand so much farther than I could have envisioned way back then.
Going to the Chapel
On Christmas Day of 2003, I asked Kerrie to marry me. We quickly set a date of August 21, 2004 and got to planning. One of the first items we checked off of our list was bridesmaids and groomsmen. Kerrie quickly asked Kim to be by her side for our special day. Ecstatically, Kim accepted. 
Soon, it was time for our wedding shower. Our friends and family threw such a wonderful gathering for us.  As we neared the end of the shower Kim asked me to join her away from the party for a brief conversation. When we got to a quiet place to talk she began by expressing how thankful she was that Kerrie and I found each other. She talked about how happy it made her to see Kerrie find true love and happiness. Tears were shed. Hugs were exchanged.
And then Kim switched gears – real quick. She said "now that's my girl. You better take care of her or you're gonna have to deal with me!" It was one of those moments where we both sort of chuckled, but we also knew she meant business. Kim wasn't playin' around. She loved Kerrie so much, and her happiness meant the world to her. She wanted to be sure I knew that it was critical to protect that. Kim was the ultimate protector and advocate for her people.
Protector
Years later, Kim would find the love of her life, John, and they would marry. And on that special day, Kerrie was right by her side as a bridesmaid. Soon after her wedding, she would put aside her roles in the hospitality industry and pursue law school at Baylor University. Kim was determined to be a criminal defense lawyer. Over those years she was in law school, we rarely saw Kim. She was in those books. And that hard work and dedication paid off as she graduated and became a criminal defense lawyer in Fort Worth, TX. 
Kim would go on to be a Senior Partner of her own law firm, Knapp Begley Law, PLLC. Her specialty – protecting the rights of those who have been criminally charged, ensuring they have thorough and thoughtful counsel. Over the course of this time she also found her way to Texas Wesleyan University, as an adjunct professor. Kim won numerous awards throughout her illustrious career that was cut far too short. 
That she ended up in a profession that seeks to protect was no surprise to me. It's who she was. I saw it, time after time, through the years. Kim was protective of those she knew and loved. And now she was extending that same protection and care to complete strangers – those who needed assistance navigating the complexities of the legal system in their time of need.
Spirit
If you ever got to hang out with Kim, you know how much fun she was. No matter the space, who was there, no matter what – she stood out. Every room she entered became brighter when she entered. 
This past Saturday we had the opportunity to hang out with Kim for, what would be, the last time any of us would see her alive. We had a huge pool party with friends and family to celebrate the upcoming wedding of my sister-in-law and her fiancé. 
As she jumped in the pool I heard a familiar refrain "James, I've gotta talk to you!' Kim was definitely in the house. If I've heard that phrase once, I've heard it a thousand times. And you never know what the conversation may end up being. Sometimes it's about work. Other times it's about the state of the world and what we can all do to make it better. And other times it could be about life, in general. But it was always going to be a robust and engaging conversation.
Pain
We are absolutely heartbroken! I'll miss hearing "James! I've gotta talk to you!". I'll miss those conversations. 
I will miss popping into my wife's salon and seeing her sitting in the chair to get her "hair did". 
I'll miss her joy. 
I will miss the way she cared for her people. 
I'll miss her can-do spirit and tenacity. 
I will miss the vacation shenanigans.
And I will definitely miss the fun that was to be had when we got the chance to hang out. 
I will miss her, dearly.
Hope Through Pain
Losing Kim in such a way quickly reminds of all the pain that exists in the world. So often, this world can seem like such a huge mess. It can be all-consuming. This loss cuts so very deep, leaving a void that is impossible to fill – a crushing weight on our hearts, minds, and souls. Questions of "why" and "how" are on repeat in our minds. 
But in the wake of this senseless tragedy we are also reminded of the goodness of the people around us. To watch Kim's family be wrapped up in so much love and support has been quite inspiring. As the tributes and stories of Kim pour in I am reminded of the tremendous and powerful impact our dear friend had on the lives of so many. 
To experience the thoughtfulness of so many who have reached out to us with condolences and kind gestures is a great reminder of the good in the face of pain. The strength of human compassion never fails. To watch so many come together, united by empathy and a desire to alleviate the pain has been uplifting. This collective support serves as a lifeline, helping Kim's friends and family navigate this difficult path of grief, reminding us that we're not alone.
While the pain of losing Kim can never be fully erased, the hope arising from the compassion of others will slowly allow us all to take small steps forward. And, little by little, through the pain I will try to smile, as I know that is what she would want for us all. Her loss has been heavy on so many, but I am hopeful that she is wrapped in the arms of our Heavenly Father. And that, coupled with knowing the legacy she leaves, brings me a bit of solace as we look to the days ahead.
In Memory Of
Kim, we'll miss you, dearly, my friend. While your loss is deeply tragic we will hold fast to the many joyous memories. Thank you for being a great friend to Kerrie and I – for loving us so. Thank you for being there for us and for the light you brought into so many lives. I have no doubt that each bit of light you shared with us all will continue to illuminate as we navigate the days of our lives. Thank you for being one of greatest Champions! Rest easy, dear friend. We love you!