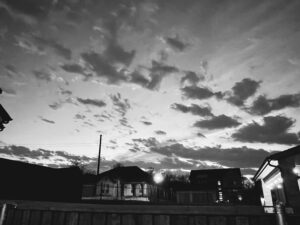 As I stood outside yesterday evening I couldn't help but notice how peaceful, calm, and still it was. Every weather forecast promised severe weather packed with howling winds and heavy rains. Yet, here I was in my backyard watching the birds fly carelessly; hearing the serene trickle of the waters flowing from our fountain; feeling the nice, warm breeze. 
The calm before the storm served as a great reminder that life can change in an instant.
Suddenly, I watched heavy wind gusts move things I hadn't considered it could move. And buckets of rain came streaming from the sky.
Storm Troopers
I grew up in Midland, TX. Extreme weather popped up quite often in the plains of west Texas. I'll never forget the many times I'd find myself all alone in our home when extreme weather struck, as my mom was usually at work. The fear was almost paralyzing. 
But, looking back on it, I was never alone. Within moments of the news of extreme weather my mother had coordinated with one of the neighbors to look after me. Through the frightening winds, incredible lightning, and jarring claps of thunder, I had a group of people committed to looking after my well-being. The storms of life remind us of the power of community. During these times we come together. We help each other, offer support, and weather the storm together. 
Unquestionably, there will be times in our lives where we feel all alone. The storm we're experiencing knocks us off course and tells us that, surely, no one else is going through what we're going through – surely, no one will understand what we've been confronted with. Please know that when we face the storms of life, we are never alone. We have loved ones, friends, and a greater community to lean on. Let your tribe provide shelter from the storm when you need it. And be that shelter for someone else when that time comes.
Storm-Tested
Many of you may have seen the storms our family has faced in recent years. It's been well-documented. And just when we thought the storm had passed, another pops up to test our resolve. Life has a way of keeping us on our toes. The minute we think we've cracked the code, here comes another to decipher. 
These tests resemble the extreme weather we faced this week – relentless winds, unyielding rain, and clouds seem to blot out the sun. The relentless storm rages around us, threatening to tear us apart and leave us broken and defeated.
When we face these unpredictable storms, we may feel powerless in the face of its force. But like a storm, the challenges we face in life can also be an opportunity to test our resilience and our strength. The winds howl, the rain pours, and the lightning strikes. And in that instance, we're presented with the opportunity to find our inner power. While these storms can often leave us battered and bruised, they also serve as a reminder of our strength and ability to overcome.
Mettle tested. Pushed to our limits. Stronger.
Always remember, it is not the storm that defines us, but how we weather it.
Here Comes The Sun
The storms of life are not just about survival; they are also an opportunity for growth, change, and standing firm on our values – our chance to shine on the other side. We're forced to confront our deepest fears, to question our assumptions, and to find new paths forward. 
Through the high winds and torrential rains we are inspired to become better versions of ourselves, to fight for justice and equality, and to make a positive impact in the world around us. They shake us from complacency and move us towards the collective action required to create a better, brighter world. 
Our resolve is strengthened. Our light, brighter. Through it all, we must stay true to ourselves, hold fast to our beliefs, and never give up hope. For it is in the face of adversity that we discover what we are truly made of, and what we are capable of achieving. Adversity reveals character.
In closing, let us hold fast to the words of the great writer and activist, Langston Hughes: 
"I am the storm, I am the flood, I am the lightning, I am the thunderbolt, I am the hurricane." 
Let us be the storm, let us rise up and choose to make a positive difference in the world. Together, we can weather any storm and emerge stronger, wiser, and more compassionate than ever before.