Life keeps us on our toes. One week you write about hope and the next week you encounter something that makes you feel hopeless. Sometimes those feelings change day to day. Sometimes hour to hour. But here's what you know – this feeling won't last forever. It's just part of the process as we pull together the puzzle pieces of our lives.
Doris Sumner – My Ma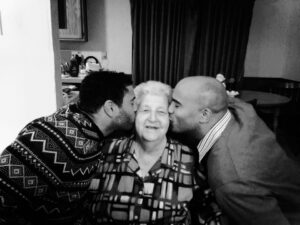 My Grandmother, affectionately known as "Ma", loved puzzles. My little brother and I moved in with my Grandmother shortly after our Mother passed away in 1997. In her home we found hope and consistency. This place held so much love and comfort. The home encapsulated all of whom Ma was. 
We lost Ma in 2021, but I think of her often. Almost daily, I feel slight nudges from her. The nudges come strongest when I find myself feeling down. I can almost sense her soft, frail, hand pushing my chin up, ever so slightly, directing me to look forward.
Her presence prompted the very words that flow here. The past couple years have been chaotic, to say the least. I won't delve into all the chaos – there's plenty out there to read. But what I want to share, here, is a note about life and one of the many lessons Mrs. Doris Sumner, my Ma, taught me – likely without even knowing it.
Ma's Place
Ma lived in a small, brick, three bedroom, two bath home in Itasca, TX. Rarely did anyone enter through the front door. Instead, we entered through the garage door that led through a breezeway, then through her bedroom, to a hallway that would take you to the living room and kitchen that were on the other end of the house. 
I can see every inch of it as clearly today as the last day I entered years ago. I smell the pot roast cooking. And I can still see Ma, sitting at her little card table, pressed against the back of the couch. Instantly, she turns around and says "hey there, kiddo!" with a huge grin on her face. She takes a quick break from her task at-hand – the puzzle spread across the table – to give me the greatest hug.
Ma loved puzzles. Like, huge puzzles with thousands of pieces. She'd sit for hours working on them. And when I found her at that table I didn't miss an opportunity to join her. We had some deep conversations while working on those puzzles. As I reflect on those moments I realize that all those beautiful puzzles serve as a metaphor for life.
The Complex Puzzle of Life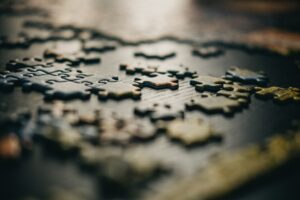 Life is a massive puzzle. Only, there is no box with a picture of what the outcome should be. As we begin the journey, pieces are scattered about. There is no rhyme, reason, or identified purpose. Random parts, with hopes of coming together.
Corner Pieces
Then, slowly, our foundations form. We sleep through the night – a corner piece in place. We graduate to solid foods – another corner piece locked in. Our first words come dribbling out – boom, third corner piece secured. Before you know it, we graduate from making a mess of ourselves – we're potty trained – locking in that last, and ever-so-critical, corner piece. Those corner pieces are foundational to launching us into life. 
The Edges
As we venture out into this new world we play with the edges – the boundaries within which the rest of the puzzle must come together. And, while this can be a bit of a challenge, the boundaries tend to make themselves readily evident. These edges serve as our values. Their clean, sharp edges provide guidance, but we're left to sort the rest out along our way. Who we are, and who we'll become, is impacted by the edges.
The Center
Now we start to play with the pieces in the center and things get more complex. Like a puzzle, life can be complicated and challenging. Each piece, a different experience, lesson, or opportunity along the way. And how we put these pieces together determines the outcomes.
Puzzles can be frustrating. We struggle to find the right piece that may have slid off the table, hiding under our shoe. Sometimes it appears as though a piece should fit, then when you try to force it in, it doesn't. We become overwhelmed with the sheer number of pieces strewn across the table – it may appear that several critical ones may be missing. But as we keep after it, the bigger picture slowly comes into focus, and each piece slides into place.
Life can be downright frustrating. Adversity, setbacks, and various obstacles crop up along our journey. Oftentimes, these challenges seem insurmountable at the moment. That feeling that something's "off" wells up inside of us and we often freeze. Each time we try to get going again we seemingly don't know where to start. But as we push through, the bigger picture of our lives becomes more clear. Each experience serves as an essential element to make sense of it all.
Team Game
Working those puzzles with Ma was always a team game. And such is life. One of the best parts of puzzles and life is that we don't have to do them alone. We can always get a fresh set of eyes on an issue when we're stuck. We just need to ask. A new perspective can help us envision brighter possibilities. And we can work together to create something beautiful.
As you navigate the puzzles of life I hope that you'll pause every so often to find the joy in the process. While it can be messy and frustrating, when it starts to come together you'll be amazed at what you are able to see at that point. 
And as quickly as amazement appears, along will come another piece to that puzzle that will likely leave you bewildered. And that's ok. Remember, you are not alone. Grab a friend or loved one. Sit them at your table. And work together to create something more beautiful than you ever imagined. 
– Dedication –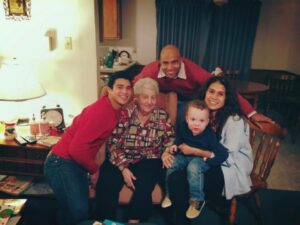 Ma, thank you for always having a seat at your puzzle table ready for me. Thank you for pouring into my life in the way that you did. Thank you for helping me piece together some very broken pieces to my life's puzzle. Those frayed edges serve as valuable lessons. I'm thankful for every one of them. And I have no doubt that the picture of my life at this moment would look very different without your love, support, and guidance along the way. I miss you and love you dearly, my forever puzzle partner.