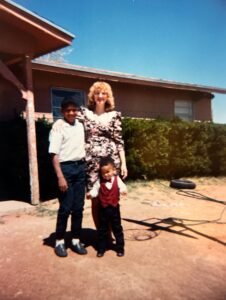 I've thought a lot this week about how fortunate I am to be here. At this stage of life I find myself reflecting more and more on the graces I've been afforded, and just how much of a miracle it is that I'm even here to write these words. I'm filled with gratitude.
Upbringing
I grew up in Midland, Texas. No stranger to tumbleweeds, dust storms, and tornado warnings that never seemed to materialize. I was also no stranger to all the nefarious elements that come with being a pivotal point along a main thoroughfare for illicit drugs heading to the Dallas/Fort Worth metroplex. It was a wildly chaotic childhood and hard to imagine when, where, or how life could be better.
Movin' on Up
When I was heading into middle school I learned my family was moving to another house, two streets over. The house we lived in was crumbling, we were behind on our rent, and it was just past time for us to leave. This place held pain, toxicity, and nightmares. My mother told me we were moving from this house at the "T" of Comanche and Eisenhower to "a house on the corner on Kiowa Drive." I was excited to hear of this new place. 
Armed with this notice, I rode my bike over to Kiowa. I knew there weren't many neighborhood kids over there – most all of us were strewn up and down Comanche – and I had to see what was going on over there. I remember seeing a house on the corner – an off white, brick house with a couple of nice trees in the front yard. "We hit the jackpot, I thought" If this house looks anything on the inside like it does on the outside, we're movin' on up! 
I quickly rode home, threw my bike down in the yard, and hurried inside to ask my mom "mom, you said 'house on the' corner, right?"
"Yes", she plainly responded. 
I shouted "YES" and gave my mom a great big hug. She reciprocated but I could tell she was a bit thrown off by my excitement over this new place. Upon the move, I would understand why.
The Move
As we rounded the corner of Eisenhower onto Kiowa drive, I looked out in the distance to that house on the corner on the south side of the street. I was locked in. As we got closer I could feel it. I tried to envision the layout and how it would feel as I walked in. My imagination didn't get to run wild for long, as the truck came to a stop on the north side of the street, just the other side of a large pasture. I looked out the window to the house we'd pulled up to. A salmon colored, frame house that looked to be on its last leg thinking "what's this?"
The truck was thrust into park and everyone got out. I thought 'ok, maybe we're just parking here but we're really taking stuff over there (to the white brick house). Nope, that would not be the case. This place, with a dirt front yard, seemingly one step from being condemned, would be the house we called home for the entirety of the rest of my life in Midland, TX.
A Heartbreaking Revelation
I'll spare you the details of what that house held as surprises when we got inside. There's far too much to describe here. I was devastated. For the better part of the last week, with pride, I'd shown my friends the house I thought I'd be moving to. It wasn't so much a "brag" as it was "can you believe this?" type deal. I was excited to finally not be embarrassed to have friends over to my house. And they were so excited for me. And all of that was crushed as I entered my new house and saw what awaited. 
I found out later that we'd been evicted from the other house and this was the best we could find that would allow us to remain in the area, where I wouldn't have to change schools. 
Two Houses, Two Worlds
I never stepped foot in the white brick house, but I can still envision the thoughts I had as we turned up that road towards it. As I look back on it, the house wasn't anything super-special. But from my limited understanding of what could be, that place was a mansion. 
I have a blueprint of that old salmon colored house, with all the chaos it embodied, imprinted in my brain. That place represented so much of what I never wish for anyone to endure at any point in their life. 
I've never forgotten either of those houses. Those two places, a stones throw apart, represented an interesting dichotomy of life for me at an early age. It was so wild to have something I deeply desired squarely within view, but completely unable to attain. Within reach, but so far away. 
I knew how I didn't want to live. And what I hoped for in the future, despite not having a clue as to how I'd make that dream a reality. 
Beyond the Brick and Mortar: A Journey of Hope, Guidance, and Gratitude
Yes, I'm in that brick home now. But it's really about something much deeper than the material building that was so important to me as a child. It was the hope of something different, more hopeful and brighter, that the house symbolized for me. Along my journey, I've been blessed to have so many amazing people, guiding me towards a more hopeful, brighter place in life. 
From several coaches and teachers, to the random kindness of strangers, to colleagues, students, and families, to my loving family – I consider myself so fortunate. While the road has been marred with plenty of pain, chaos, and trauma, there's also been moments of joy, clarity, and comfort. I think, to varying degrees, that's the case for most of us. 
We're all faced with disappointment, discontent, and hopelessness at some point along the plot line of our lives. And then, somewhere along the way, we're given a glimpse of hope. A glimpse of what could be, and a sense of purpose, pushing us forward. 
I encourage you to continue to look for that hope and purpose in the midst of your trials. It may not be the brick house on the corner you thought was yours. You may be stuck in the chaos and pain of the moment. It seems unending and out of control. But never let your current circumstances limit your future possibilities. Trust that this season is preparing you for something greater than you ever imagined.