As we turn on the news and hear discussions surrounding violent communities, one city often takes center stage: Chicago. And, while Chicago may have its fair share of concerns to address, regurgitation of the "what about crime in Chicago?" trope overshadows the broader context and greatly minimizes the reality of the folks on the ground – those doing the hyper-local work of building communities where everyone can thrive. These narratives often reinforce deeply rooted racial stereotypes that have been with us over the course of time. Today I'd like to offer a counter-narrative for you. 
The Windy City – The Counter-Narrative
When I say "counter-narrative" I'm talking about an alternative perspective or story that may challenge prevailing narratives or beliefs. This provides a different lens through which to view a particular issue, with the aim of challenging stereotypes and potential misconceptions/biases. Counter-narratives can be such a powerful tool.
Chicago has often been stigmatized and reduced to a singular narrative of rampant violence and crime. This narrative, perpetuated by so many, contributes to negative perceptions and misconceptions about the very real communities of the city.
Today I want to offer the counter-narrative, where we acknowledge the multitude of individuals and organizations working tirelessly to address community concerns and create safer communities. There are countless community leaders, activists, social workers, educators, and residents in Chicago who are dedicated to fostering peace, reducing violence, and supporting those affected by it. From youth programming, to providing trauma-informed support, to promoting restorative justice, to advocating for systemic changes – there are dynamic, engaged, and impassioned individuals on the ground leading this community-building work.
This week I had the honor of visiting Chicago for the first time with my Bringing Fellows cohort. Upon arrival we immediately plugged into a full day and a half engaging with numerous non-profits doing deeply impactful work in some of the most disinvested communities in the city. I will do my best to highlight some of those organizations and the work they're doing here in a bit. But, as a historian, I'd be greatly remiss if I did not delve into the historical context of how the systemic inequalities that exist in the great city of Chicago – a city that has given the world so much – actually came to be.
The Promise and Reality of the Great Migration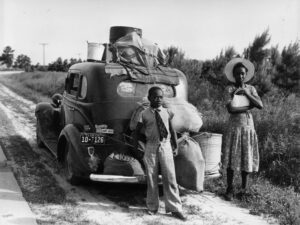 In the early 20th century, the Great Migration brought waves of Black people from the oppressive chains of the South to the promise-laden cities of the North. Prior to this movement, the South had long been the predominant home for African Americans. From the inception of the nation until the turn of the 20th century, the majority of African Americans, at least nine out of ten, resided in the South, primarily in rural areas. However, despite the newfound freedom granted by the 13th Amendment, which abolished slavery, various factors such as farm tenancy arrangements, poverty, high illiteracy rates, and limited opportunities in the North kept Black migration from the South at a very modest level.
From 1910 to 1970, Chicago attracted more than 500,000 of the approximately 7 million African Americans who left the South. One of the key contributors to the movement was The Chicago Defender, a prominent Black newspaper in the city. It played a pivotal role in promoting and facilitating the migration of African Americans to the North. Starting in 1916, the newspaper embarked on an extensive campaign, sharing inspiring stories of Southerners who had achieved success in the city. To assist those considering the move, the paper provided valuable resources such as lists of churches and organizations where potential immigrants could seek help with travel, housing, and employment.
Systemic Inequalities in a Promised Sanctuary
However, beneath the surface of Chicago's attractive facade, the promise of a sanctuary was overshadowed by the stark reality of systemic inequalities. Civil Rights icon, Dr. Martin Luther King Jr., turned his gaze upon the streets of Chicago and was met with a harsh, devastating truth – declaring it to be one of the most segregated places he had ever witnessed, exposing the persistent grip of racial divisions and systemic injustices that plagued African American communities.
Contrary to the hopes and expectations of those who migrated, the North proved to be mostly a continuation of the oppressive structures they sought to escape. Systemic inequalities persisted – discrimination, limited opportunities, and unequal access to resources remained obstacles to the progress and advancement of African Americans.
Structural Barriers and Resilient Prejudice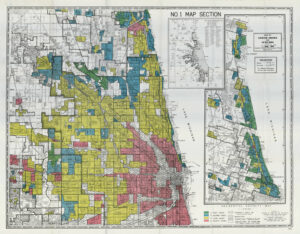 An insidious prejudice persisted in obstructing progress and maintaining racial divisions within Chicago. Structural barriers were erected to confine African American communities within invisible walls, denying them access to quality housing, educational opportunities, and economic advancement. Redlining, discriminatory lending practices, and predatory housing policies served as highly effective legal tools to perpetuate systemic inequalities and reinforce racial segregation.
Through redlining and discriminatory lending practices systematically denied loans and mortgages to African Americans, depriving them of the opportunity to build wealth and secure stable housing. Predatory housing policies further exploited these communities, perpetuating cycles of poverty and limited mobility. The impact was profound, trapping generations in a cycle of inequality and denying them the chance to fulfill their potential.
Divisions and Neglect: Echoes of Injustice
Segregation's corrosive effects permeated every corner of Chicago, eroding the city's unity and corroding its social fabric. Neighborhoods once vibrant with diversity succumbed to the rigid boundaries of racial segregation, breeding inequality and perpetuating deep-rooted disparities. Within this segregated landscape, African American communities bore the brunt of the consequences, enduring the harshest realities of racial injustice.
Education, a pillar of opportunity, access, and empowerment, became a battleground of inequality. Dilapidated schools, deprived of resources and attention, stood as glaring symbols of neglect and systemic discrimination. African American children were denied equal access to quality education, limiting their chances for upward mobility and perpetuating generational cycles of disadvantage. Simultaneously, healthcare services in segregated areas were woefully inadequate, reflecting the callous disregard for the well-being of African American lives. Basic medical facilities were scarce, leaving communities grappling with preventable illnesses and untreated conditions.
Amidst the sea of despair, a familiar, resilient spirit emerged. African American communities in Chicago refused to be defeated. They rallied together, united in their demand for an end to the suffocating grip of segregation and systemic racism. 
Organizations like the Chicago Freedom Movement, led by Dr. Martin Luther King Jr., and countless grassroots activists played a vital role in challenging the status quo. They paved the way for progress, tirelessly advocating for equality, justice, and the dismantling of oppressive structures. Their footsteps marked a path towards a more inclusive and just society, leaving a powerful legacy of local community power and hope.
The Legacy of Power and Hope 
African Americans' struggle against systemic inequalities in Chicago serves as a testament to the unbreakable spirit of the human will. It reminds us that progress isn't always rolled out on a linear path, that the journey towards justice is often riddled with countless obstacles. However, it also demonstrates the power of community and the unwavering belief that together, united in purpose, we can dismantle the barriers that hinder progress.
The legacy of the Great Migration and the resilience of those who fought for justice fuel our determination to create a future where equality and justice are not mere dreams, but a lived reality for all. And like those who paved the way during the Great Migration, today, there are so many powerful organizing efforts taking place in these communities. While there are so many doing absolutely phenomenal work in their communities, here are a few we visited during our time in Chicago.
Southwest Organizing Project (SWOP)
In the heart of Chicago's southwest neighborhoods, the Southwest Organizing Project (SWOP) stands as a champion of community empowerment. They work tirelessly alongside residents, amplifying their voices and fighting for social and economic justice – they understand the power of collective action and partners with the community, rather than playing the role of a savior.
One of SWOP's primary battles is housing insecurity. They confront gentrification and strive to ensure that every resident has access to safe and affordable homes. By transforming dilapidated buildings into beacons of hope, they enable families to thrive and reclaim their communities.
Education is another area where SWOP has made a significant impact. They stand alongside parents and students, demanding better resources and equitable opportunities. Through their unwavering commitment, they transform schools into empowering environments where the potential of every child is nurtured and futures are reshaped.
SWOP also fights for equitable healthcare access, mobilizing communities to dismantle barriers that hinder essential medical services. Their efforts have chipped away at healthcare inequity, ensuring that all residents, regardless of their zip code or economic status, can receive the care they deserve. The impact of SWOP reaches deep into the fabric of the community, instilling power, unity, and resilience. They inspire collective action and a model that change comes from unwavering determination and belief in the power of the people. 
Imagine Englewood if
In the heart of Englewood, Imagine Englewood If stands as a powerful force for change. As the longest-serving nonprofit in Englewood, it is committed to fostering secure and empowering environments for the youth in the Greater Englewood community. By imparting valuable knowledge on positive communication, promoting a healthy lifestyle, and fostering environmental awareness, IEi plays a vital role in strengthening the bonds within the Greater Englewood community. Through IEi, disinvested spaces are transformed into vibrant centers of growth and community building, adorned with murals that tell stories of strength and unity.
Imagine Englewood If defies limitations and nurtures the creative spirit within young people. Their impact pulses through the community, empowering individuals to rewrite their narratives and shape their neighborhoods. By fostering belonging and purpose, they instill the belief that dreams are valid and contributions are invaluable.
As architects of transformation, Imagine Englewood If builds bridges where others see walls, unlocking the potential within each individual. They paint a vivid picture of a future where empowerment replaces disinvestment, creativity silences violence, and every young person can thrive. Through their unwavering dedication, they pave the way for a brighter tomorrow, where hope guides us towards a world where dreams are realized.
Safer Foundation
Many of us have loved ones or close friends who've been incarcerated at some point in their lives. And we have seen the, oftentimes, irremovable obstacles that stand in the way of formerly incarcerated individuals. This is where the Safer Foundation steps in.
They serve as a beacon of hope, advocating for second chances and transformation in a world that can be quick to condemn those with criminal records. At Safer, they recognize the worth of every individual, believing that behind every label and mistake lies someone deserving of redemption and a fresh start. With unwavering dedication, they provide comprehensive services that extend beyond rehabilitation, including employment training, education, and vital support. They've even built a full-scale home in an old gym where these individuals can practice their skills in a practical way. There lies an inherent belief in the power of education to break chains of prejudice and open doors of opportunity to equip individuals with the skills and resources needed to rebuild their lives and contribute positively to their communities.
They work tirelessly to break the cycle of incarceration, dismantling barriers and fostering an environment of acceptance and understanding. With Safer, individuals are able to rewrite their narratives, rise above their past, and embrace limitless possibilities for their future. Lives are transformed, identities reclaimed, and communities are enriched as individuals begin to envision a brighter future – a future in which they belong. 
Through the work of the Safer Foundation we're reminded of the importance of empathy, understanding, and forgiveness, challenging the notion that mistakes define individuals, and, instead, celebrating their resilience and potential. In a world where judgment often overshadows compassion, the Safer Foundation rises above the noise, guiding individuals towards redemption and renewal and reminding us of the transformative power of second chances in building a vibrant society. 
BUILD Chicago
BUILD (Broader Urban Involvement & Leadership Development) has been transforming the lives of young people in Chicago since 1969. Focusing on gang intervention, violence prevention, and youth development, the organization provides opportunities and inspires hope for youth facing systemic obstacles. Through mentoring, arts, athletics, college and career preparation, technology, and mental health programs, BUILD serves over 6,500 youth and families each year.
In response to the urgent need to address violence, BUILD launched the BUILDing Healthy Futures initiative in 2012. This initiative promotes healthy lifestyles through knowledge, nutrition, physical activity, and social-emotional learning. As violence rates increased in Chicago, BUILD adjusted its efforts to target areas with the greatest needs, such as Austin, Humboldt Park, and the West and South Sides. Since 2016, the organization has expanded its impact by establishing a Clinical Health & Wellness department and introducing Enrichment programs focusing on art, technology, and leadership training.
BUILD places a strong emphasis on building relationships with youth, fostering trust, and providing advocacy, support systems, and high expectations. They strive to ensure that every young person in every neighborhood has the opportunity for success. And they've achieved tangible results, with regular program participants showing decreases in negative behaviors, increases in prosocial behaviors, social mobility, post-secondary success, and civic activism/engagement.
They provide academic support and open doors to college and career opportunities for at-risk youth, including teen mothers and formerly incarcerated youth. Additionally, Project BUILD helps incarcerated teens reclaim their lives by introducing innovative practices to learn from past mistakes and develop positive life skills. They also engage neighborhood adults through the Community Resources Development program, collaborate with social service providers, and offer alternatives to incarceration for troubled youth.
Another powerful component to BUILD is The Iris, their campus farm, which plays a vital role in bringing fresh food, job experiences, and hands-on learning opportunities to the broader community. At The Iris, fresh and locally grown produce is cultivated, harvested, and shared with the surrounding community. By providing access to nutritious food, The Iris contributes to combating food insecurity and promoting healthier lifestyles for the community. 
Furthermore, the farm serves as a space for educational programs and workshops, allowing individuals of all ages to engage in experiential learning and gain a deeper understanding of sustainable agriculture and environmental stewardship. To date, BUILD collaborates with over 100 organizations, demonstrating a commitment to a true community partnership. 
Firehouse Community Arts Center
The Firehouse Community Arts Center, located across disinvested neighborhoods of Chicago, serves as a sanctuary of creativity and healing. For over a decade, they have provided a safe haven for young people in Chicago – its primary focus on preventing and interrupting youth and young adults caught in violence through a range of events and art programs. The center's origins go back to a Saturday night Hip-Hop worship service in 2003, organized by Pastor Phil Jackson and attended by youth and young adults from North Lawndale and beyond. The overwhelming response led to the incorporation of the Firehouse Community Art Center as a 501(c)(3) non profit in 2006, and the subsequent purchase of a 100-year-old Chicago Firehouse in North Lawndale in 2007.
Today, the Firehouse Community Arts Center offers year-round, multi-disciplinary cultural arts programming, mentorship, leadership development, and workforce training. Its mission is centered around preventing and interrupting violence by providing young people with meaningful opportunities to engage in the arts. The center serves as a hub for artistic expression and creativity, empowering the youth and young adults of North Lawndale and the wider community. Through these various forms of expression, individuals find solace and strength, realizing that they are so much more than what they may have been led to believe.
The Firehouse Community Arts Center stands as a testament to the spirit of a community that refuses to be forgotten. It embodies the transformative power of art, connecting hearts and illuminating the human experience. In this reclaimed fire station, hope blossoms, wounds heal, and communities are woven together through shared experiences. 
IMAN (Inner-City Muslim Action Network)
Since its inception in 1997, IMAN has served as a powerful force for change on Chicago's South Side. Rooted in the lived experiences of marginalized communities, IMAN's passionate visionaries have nurtured the organization into a beacon of hope and transformation. 
IMAN's approach defies conventional boundaries, recognizing that true change requires addressing the interconnected web of systemic inequities. They are a prime example of "buying the block" to provide services to the people. (I encourage you to read this more broad outline of how they're changing the game – IMAN's Principles of Change)
IMAN's story celebrates the indomitable human spirit and the resilience of communities of color. They are catalysts for transformation, defying limitations and reshaping narratives. Their legacy will forever resonate as a testament to unity, resilience, and unwavering hope, fostering a society where every voice is heard, every life is valued, and justice radiates in every corner.
Embrace the Counter-Narrative
Thank you so much for joining me on this journey. I understand that stepping back and considering something different than what you may have believed or felt can be a hard thing to do. But I encourage you to. As we embrace the counter-narrative, we recognize that violence and crime do not define the entirety of Chicago or its residents. We acknowledge the agency and resilience of those who are actively engaged in creating positive change and foster a more nuanced and understanding of the city's complex realities. 
I love the people of Chicago and thank them so much for their willingness to share the dope ways in which they are making a difference in their communities. I learned so much. Let's commit to challenge our preconceived notions. And let's celebrate the remarkable work being done by local community organizers in some of the most disinvested areas in our country. As one of these champions stated, "we don't get to clock out – this is what we do 24/7." That's commitment. That is love. That is community. 
So the next time you hear someone say "well what are they doing about crime in Chicago" or some other racist trope, I challenge you to step up. You can show them this blog. You can point them to one of these fabulous organizations where they can ask the folks doing the work directly. And, while they're at it – since they're so concerned – they can donate to their causes. Let's transcend stereotypes, embrace the counter-narrative, and support the transformative efforts of so many amazing nonprofits, such as these, in their mission to build a more peaceful and prosperous society for all.